A violent beginning of the year for Honduras' human rights defenders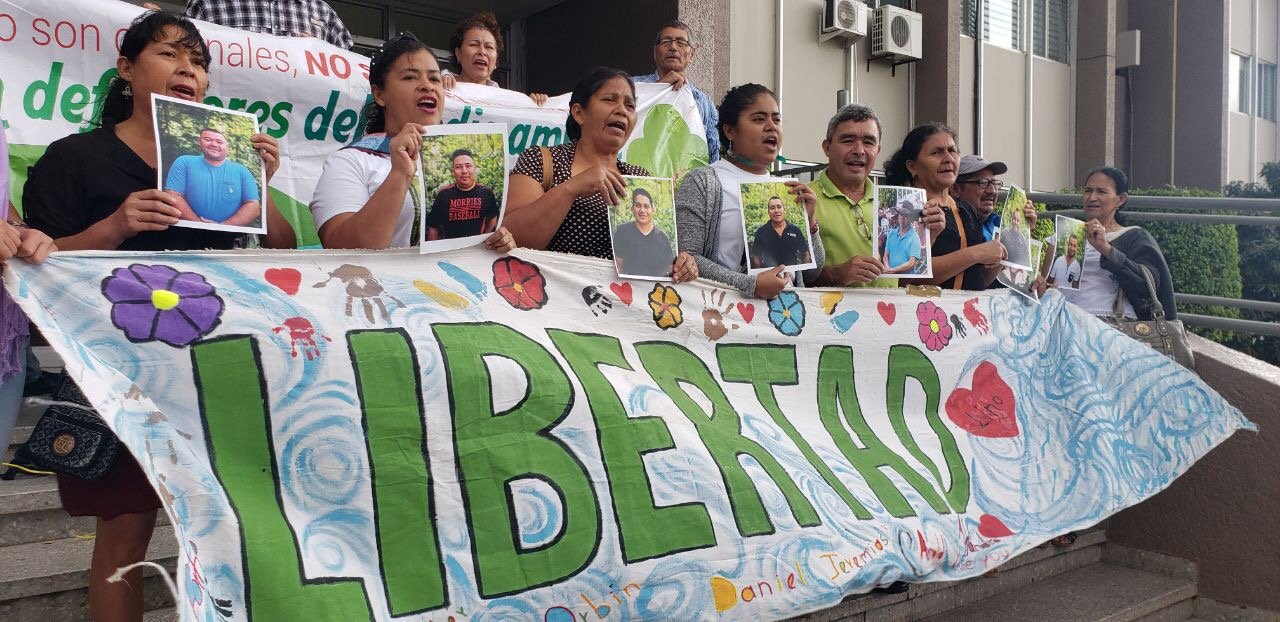 Early in December 2022, President Xiomara Castro declared a state of exception in several regions of Honduras to address gang violence. Executive Decree (PCM 20-2022) suspended fundamental guarantees that include freedom of association and assembly. On 6th December, hundreds of security agents were deployed to urban areas particularly affected by organised crime.
The state of exception was extended in January and February 2023.
Association
🚨🚨#Alerta ante asesinato de defensores Aly Dominguez y Jairo Bonilla de #Guapinol.

Expresamos nuestro profundo pésame a sus familias y exigimos una investigación independiente que esclarece los hechos.

Más información: https://t.co/J6mCnnAnVR pic.twitter.com/STxPeyHgj8

— Guapinol Resiste (@guapinolre) January 8, 2023
On 7th January 2023, environmental defenders Jairo Bonilla and Aly Domínguez were shot and killed in broad daylight by unidentified gunmen. They were both members of the Guapinol community in Tocoa, Colón department, where dozens of people have faced harassment, criminalisation and violence for their resistance to a mining project. Honduran police claimed that Dominguez and Bonilla died in a robbery, but family members rejected this version and said their motorcycles and personal belongings were not taken. Mary Lawlor, UN Special Rapporteur on Human Rights Defenders, said an independent investigation must be carried out, taking into account the possibility that the killings were retaliation for the defenders' activism.
The Municipal Committee in Defence of Common and Public Goods of Tocoa said that, despite the multiple warnings about constant threats against Guapinol defenders and the increased risk they face, state authorities have refused to act to guarantee their integrity and to put an end to environmental contamination caused by mining. On 23rd February 2023, Amnesty International issued a statement saying attacks on water defenders in the community of Guapinol had persisted, a month after the murders. The organisation noted that six defenders still face threats of criminal prosecution for their resistance against the mining project.
In another case, on 18th January 2023, land defender Omar Cruz Tomé and his father-in-law were shot and killed in the defender's house in Tocoa. Cruz Tomé was the president of campesino cooperative Cooperativa Los Laureles, where he advocated against land evictions. Days before the murders, Cruz Tomé had reportedly accused a leader of agribusiness company Dinant of involvement in criminal activities in the region. He had previously received threats for his activism. Campesino groups in the Aguán region also denounced being subjected to constant threats and attacks by the security company hired by Dinant, and from irregular armed groups working in alleged coordination with the companies.
Two more killings took place on 12th February 2023, when land defender Santos Hipólito Rivas and his son Javier were killed in Trujillo. In 2019, Rivas had been granted protective measures - which were not properly implemented by the national protection mechanism. Local residents said a paramilitary group had threatened Rivas and other land defenders in the region for years.
Human rights groups have warned of an escalation in attacks on human rights defenders and campesino groups in the Bajo Aguán region of Honduras. In addition to these killings, there were cases of armed attacks and threats against regional campesino cooperatives. The Office of the UN High Commissioner on Human Rights (OHCHR) expressed concern about the situation in Bajo Aguán, calling on Honduras to take urgent measures to protect local leaders.
Garífuna defender found dead
On 28th January 2023, Garifuna land rights defender Ricardo Arnaúl Montero, a member of the Land Defence Committee, was found dead in the Triunfo de la Cruz community in Tela, Atlántida. The Organización Fraternal Negra Hondureña (Honduran Black Fraternal Organisation- OFRANEH) denounced the murder and said Montero had been buried without an autopsy. Police initially said the defender had drowned, but in February 2023 authorities ordered the exhumation of his body for investigation into the cause of death. The OHCHR expressed solidarity with the Triunfo de la Cruz community and with OFRANEH, and called on authorities to conduct an exhaustive investigation into the circumstances of his death.
Expression
⚠️ La prensa en Centroamérica y Cuba: entre el encierro o el destierro

Además del amedrentamiento físico y el discurso estigmatizante destacan dos estrategias de los gobiernos autoritarios: el acoso legal y el digital.

🧑‍💻 @PoloMaldonadoG https://t.co/NHSdj3pm6x

— ARTICLE 19 MX-CA (@article19mex) February 17, 2023
In February 2023, Article 19 released their quarterly analysis on freedom of expression in Central America and Cuba. The report covers the October-December 2022 period, showing the persistence of attacks against freedom of expression, in particular against journalists. The organisation said governments in Honduras have not made an effort to build consistent alliances with civil society and to build new foundations for an open and transparent public administration. The report also expressed concern about a new government body whose attributions include activities to monitor news about the government.