Anti-Nuclear Activists Arrested during simultaneous raids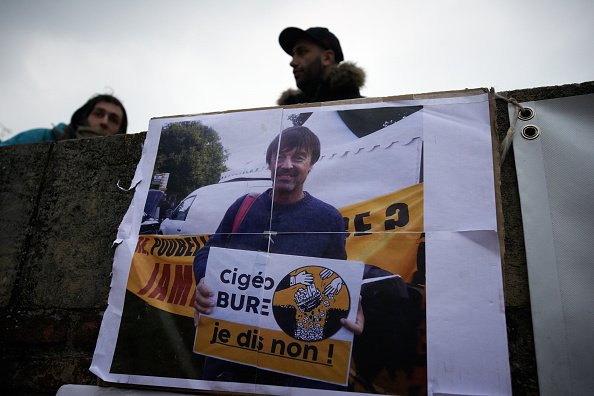 Peaceful Assembly
On 20th June 2018, more than two hundred French police simultaneously raided ten locations where opponents of a plan to bury nuclear waste were living. The raids, in the Meuse and Haute-Marne regions, resulted in seven people taken into custody. On the same day, during a searing in Paris, the anti-nuclear activists' longtime lawyer, Étienne Ambroselli, was also detained. The Centre Industriel de stockage Géologique, or Cigeo, project aims to bury nuclear waste below the ground in the village of Bure, and has met with strong resistance from anti-nuclear activists. Cigeo is managed by ANDRA - the National Agency for Radioactive Waste Management.
4 jours après cette manifestation, 7 opposants au projet étaient placés en garde à vue, dont un avocat. #Bure #Cigéo pic.twitter.com/ePJF9o4gEw

— La France insoumise (@FranceInsoumise) June 21, 2018
A press release on the website of the anti-nuclear activists reported that the arrests were the "climax of a week of intensified repression" which included the protest camp's daily life and ability to gather. According to the Public Prosecutor, the arrests were  not linked to demonstrations held on 16th June 2018, but instead were carried out within the framework of a "judicial investigation opened in July and August 2017". In many cases the reasons for the raids were unclear, or not provided to those being arrested.
The arrest warrants were issued in relation to damage done during a meeting near the underground ANDRA laboratory (where tests on the suitability of sites for underground storage of nuclear waste are carried out) on 18th February 2017, coupled with an attempted arson attack at a hotel and violence during an illegal demonstration on 15th August 2017. The individuals arrested are accused of having participated directly in these incidents or of having been involved in their preparation.
One of the activists in Bure said,
"Despite this large state operation which is aimed at intimidating us, we continue to be determined in our struggle against the CIGEO project, against ANDRA and its world."
In response to the arrest of the activists' lawyer, fifty lawyers signed a letter in solidarity with their colleague Étienne Ambroselli, who was also placed in custody on 20th June following a search of his office in Paris. In their letter the lawyers said:
"We strongly denounce these disproportionate and shocking methods that trample on the most fundamental freedoms: the right to defend oneself and the right to defend [others]." (Translated from French)
Ambroselli was eventually released and he was able to retrieve all property seized by the authorities during the search of his offices.
After last nights eviction of the Lycee #Arago in #Paris about 60 people are still detained today. One of them is a photographer of @LaMeutePhoto. #liberezLaMeute & all other #22mai prisoners! Image from first charge by cops during #manif22m - Image by @padovnr pic.twitter.com/DFL6IQFsMz

— Enough is Enough! (@enough14) May 23, 2018
Allegations of police violence during school protest in Paris
On 22nd May, over 100 people, among them minors, were arrested during the occupation of a school in Paris by protesters opposing a recent education reform. The school occupation formed part of wider protests by postal workers, teachers and students, which took place on the streets of Paris and called for "a public service of social progress" and sought to demonstrate their opposition to the reform agenda of French President Emmanuel Macron. 
At least two complaints were filed on 25th June concerning the treatment of those arrested in the school, including one by the lawyer of a photographer covering the protest, who alleges that the Police's Divisional Commander falsified a report to justify the late notification of detention to his client (see Expression section below). Lawyers acting on behalf of a 17-year-old high school student also filed a complaint against the police for "willful violence against vulnerable person and arbitrary detention".
Expression
During the same protest on 22nd May, a photographer and a videographer were detained for 48 hours and charged with unauthorised entry. The photographer, a 21 year old student from the photographers collective La Meute, followed a crowd of about 100 protesters who occupied the Arago High School, and although he identified himself to police as a journalist, he was still detained for 48 hours. He was initially told by police that he was being detained for just 24 hours, but later learnt that he had been put in detention pending trial. He was also discouraged from contacting a lawyer.
Interpellations au lycée Arago : deux plaintes déposées pour "violences volontaires" et faux https://t.co/LbuTxWyVHq pic.twitter.com/1UCX79zq5k

— L'Obs (@lobs) June 28, 2018
Other developments related to civil society
On 15th June 2018, the Council of State - the body which adjudicates on the lawfulness of new bills and regulations in France - confirmed that the Department of Haut-Rhin in the east of the country could require beneficiaries of social welfare to perform volunteer work. In 2016, Le Mouvement Associatif, the platform representing the interests of the civil society sector in France, had adopted a position opposing such moves to link the receipt of social welfare to a requirement to volunteer. Following the Council's decision, Le Mouvement Associatif reaffirmed its position against mandatory volunteering and called on associations and public authorities not to exploit volunteering.
In a proposed constitutional change the Government of France presented a bill to the Council of Ministers on 9th May 2018, that aimed to transform the Economic Social and Environmental Committee (CESE), into a Civil Society Chamber or House of Citizen Participation. Currently, the CESE is an assembly composed of social representatives, which include employers, unions and associations. The objective of the transformation is to improve government consultation with the civil society sector and diversify the representativeness of the body. The new chamber would have the responsibility of being systematically consulted on "bills of an economic, social and environmental nature" which currently reach the CESE when the government decides to do so on a case-by-case basis. The bill did not elaborate how these reforms would be implemented, but a subsequent law is expected to provide details.